The truth is:
For many investors, the question is not "Should I invest in gold?", but "How to buy gold smartly?"
From coins to bars, or ETFs to futures, buying it comes in many forms, making it challenging to find the right one.
And where do IRAs fit in the mix?
Fortunately, discovering the most efficient way to buy gold doesn't have to be complicated.
Today, we set the record straight. By the end of this guide, you'll know all the different ways to invest in this precious metal.
More importantly, you'll learn the benefits and drawbacks of each so you can easily decide which makes the best sense for your financial situation.
Note: Gold & Silver Central is for informational and educational purposes only, and does not offer any personal financial advice. Please consult with a professional before making any decisions.
Now with this disclaimer out of the way, let's get started.
Buying Physical Gold
Gold bullion is physical gold of high purity that derives its value from the gold content rather than its form.
The two most popular ways to buy bullion are bars and coins.
1) Gold Coins
One of the earliest forms of currency, the first gold coin was struck by King Croesus of Lydia (now a part of present-day Turkey) in 550 BC.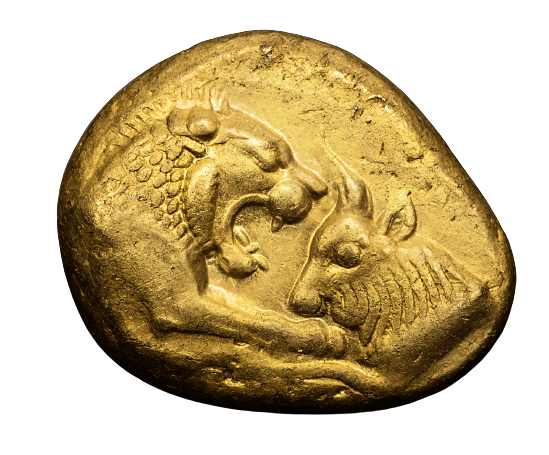 Today gold bullion coins are produced by top mints around the world. Some of the most well-known are:
The US Mint

Royal Canadian Mint

Royal Mint of the United Kingdom

Perth Mint in Australia

South African Mint

The Central Mint of the People's Bank of China
Coins come in various sizes, the most popular being one ounce. However, they are also available in ½, ¼, and 1/10-ounce sizes.
Collectible coins, known as numismatic coins, can command prices many times their weight in gold due to demand and rarity.
However, unless you're an expert, stick to bullion coins to avoid being taken advantage of by unscrupulous dealers.
How to Buy Gold Coins?
You can purchase gold coins from reputable online dealers.
The popular ones are:
Or, if you prefer to stay local, check at local coin shops and coin shows, though it can be difficult to confirm their purity.
However, before doing business with a company, check their reputation with the Better Business Bureau to see if any complaints have been filed against them.
(We also do a lot of reviews here at Gold & Silver Central channel, so be sure to subscribe!)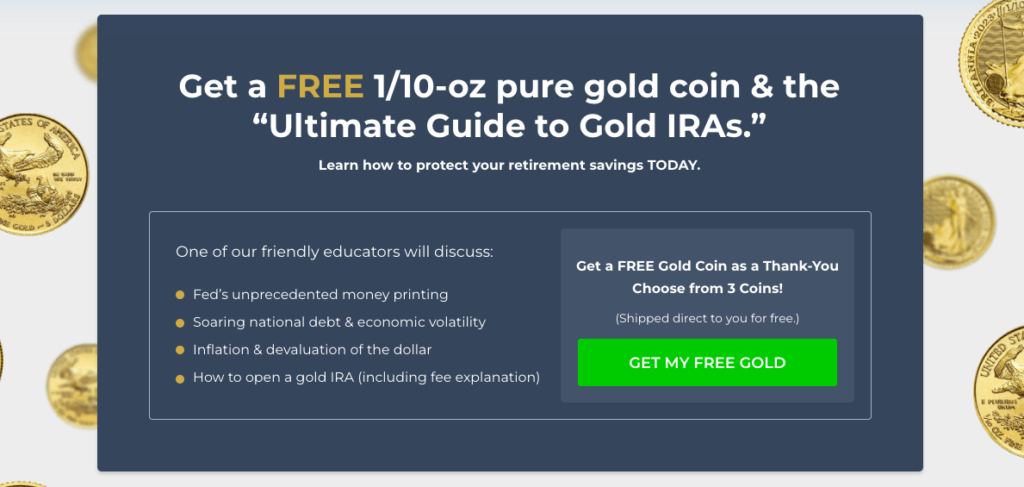 2) Gold Bars
These are a popular choice by precious metal investors.
Let's face it, nothing is more emotionally satisfying than an investment you can hold, see, and feel.
Hefting a gold bar is an experience unlike any other and not something you'll get handling a few coins or buying stocks and bonds. 
Investing in one is the purest form of gold investment.
Gold bars are usually sold by weight – in grams or ounces. The purity, manufacturer, and weight should be clearly stamped on each bar.
Purity is your top concern. Investment quality gold must be 99.5% pure, especially if you're considering holding it in an IRA.
How to Buy Gold Bars?
You can purchase from local dealers, online retailers, or private individuals you trust. 
Some of the well-known and respected companies are:
(Some of the aforementioned names focus on Gold IRAs as well, but more on that later.)
3) Jewelry
Another method to invest in gold is through jewelry.
However, prices are determined by quality and craftsmanship, and you'll pay a hefty premium over the cost of the actual gold content.
Since you're paying more for less gold, most experts don't recommend using jewelry as an investment – no matter how unique or pretty it is.
What Is the Best Form of Gold to Buy?
Gold bars are your best bet.
Not only are they considered to be the best, but they are also the cheapest form of gold to buy. You'll pay a lower premium over the spot price compared to coins or jewelry.
Also, many dealers offer discounts for bulk purchases of gold.
Bulk is usually defined as 100 ounces or more, though this can vary among retailers. These discounts can get progressively better the more you buy – so the larger your order, the better your price.
Factors to Consider When Buying Physical Gold
If you decide to buy gold bullion, here are a few things to keep in mind:
You'll want to use a secure storage facility. Though you can keep it at home, thieves are skilled at finding hidden gold, even using metal detectors to search walls and floors.
Precious metals aren't usually covered by your homeowner's policy. Also, when selecting a secure storage facility, make sure they offer an all-risk insurance policy.
You can't judge purity on your own. So stick with only the top mints that guarantee the quality of their gold.
Purchasing low qualify gold will negatively impact the resale value of coins and bars.
Buying Gold in an IRA
Precious metals are a great way to diversify your retirement funds and protect your savings from inflation.
A gold IRA is a self-directed individual retirement account that lets you own different types of IRS-approved precious metals.
However, many custodians that manage traditional IRAs don't want to handle the additional IRS reporting requirements.
So you will need to choose one that focuses on helping with this type of accounts.
Your selected custodian will handle all reporting and distributions, freeing you up to focus on your investments.
And since you can't take physical possession of your precious metals, they will work with an approved third-party storage facility to house your metals securely.
The main advantage of a gold IRA is the tax benefits. Gains grow tax-deferred (or tax-free in the case of a Roth).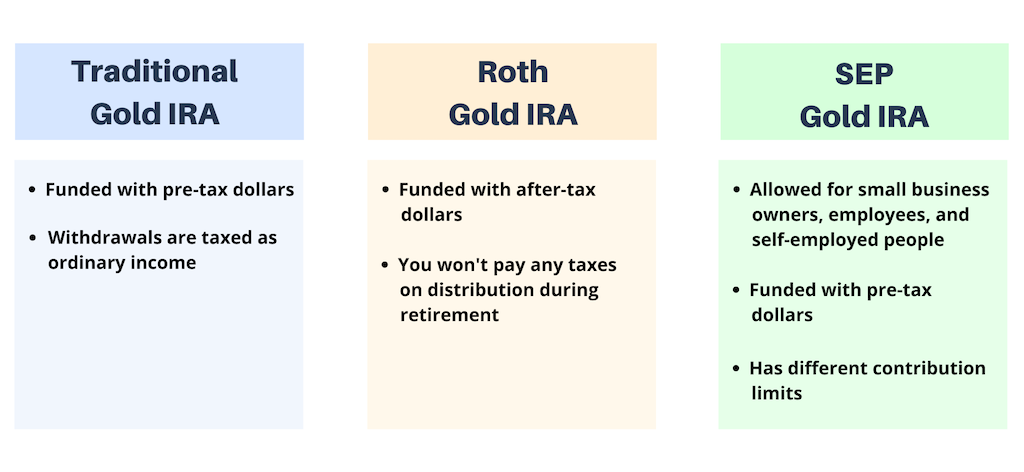 Also, contributions may be tax-deductible in the year that you make them.
The downside of Gold IRAs is that they have higher fees than traditional retirement accounts.
Also, since you have to work with a custodian, you have less control over your precious metals than if you owned them outright.
We still think that buying precious metals in an IRA is a great idea, especially if you want to legally avoid paying sales taxes on gold purchases.
How to Open a Gold IRA?
If it sounds like a lot of hassle to open an account, don't worry.
Rather than doing it alone, we suggest working with a reputable gold IRA company.
The top firms are completely upfront about any fees, offer excellent and unbiased educational resources, and provide highly responsive customer service.
If you have a smaller rollover or contribution amount of up to $25,000, then consider the following 3 companies:
Now…
If you are a high net worth individual who can afford a $50,000 minimum investment amount and only wants to work with the best of the best, then consider Augusta Precious Metals.
Named "Best Overall Gold IRA Company" for 2022 and 2023 by Money Magazine, they will hold your hand through every step of the process and do 95% of the paperwork with you.
If this is something that interests you, give the Augusta team a call at 833-989-1952 to learn more.
We also recommend that you grab their Gold IRA guide here.
It's 100% FREE and explains everything you need to know about diversifying with precious metals.
Plus, you get FREE GOLD coin when you open a gold IRA account with them.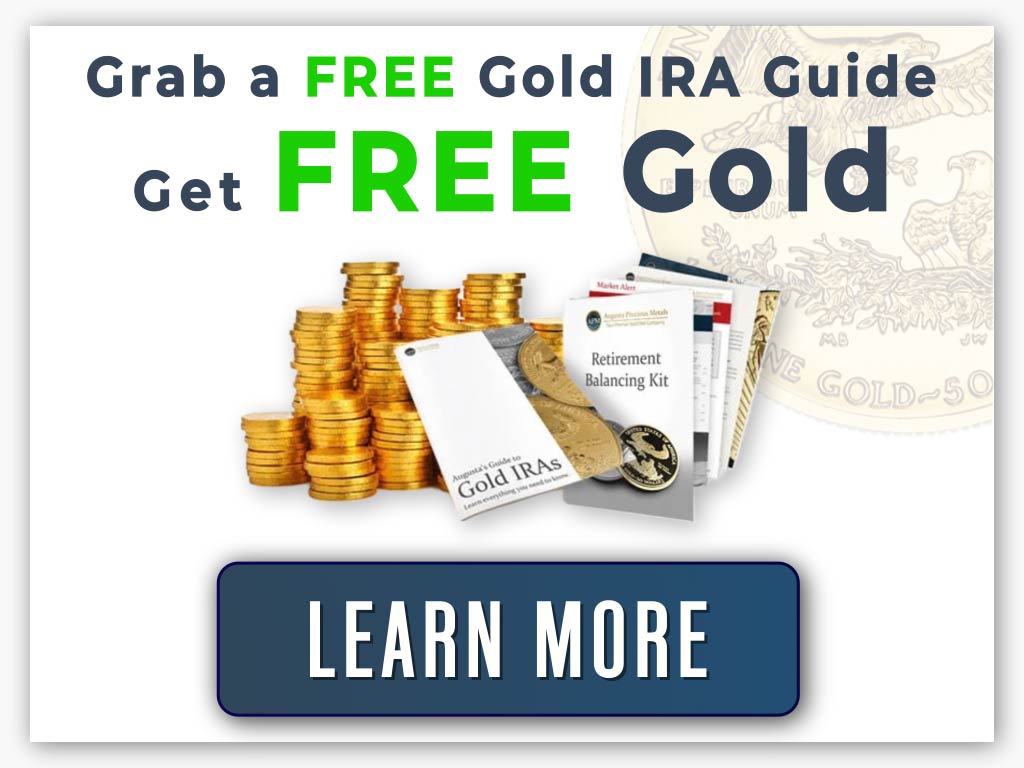 Other Ways to Buy Gold
There are other ways to invest in gold without actually buying the physical metal.
The following options provide various levels of exposure to the gold market.
1) Gold ETF
A gold ETF may be a good option for investors who want the benefits of gold but don't want to deal with storage or insurance issues.
These funds represent a specific quantity of gold held in secure vaults.
Shares are traded on the US stock exchange, making it easy to get into and out of positions. Also, you can own shares within a traditional IRA.
However, you don't actually own any gold. Plus, ETFs charge management fees which can lower your returns.
If you are thinking about adding a gold ETF to your portfolio, here are three top funds to consider:
2) Mining Stocks
Why buy the product when you can go to the source?
By purchasing gold mining stocks, you invest in the companies that mine this precious metal.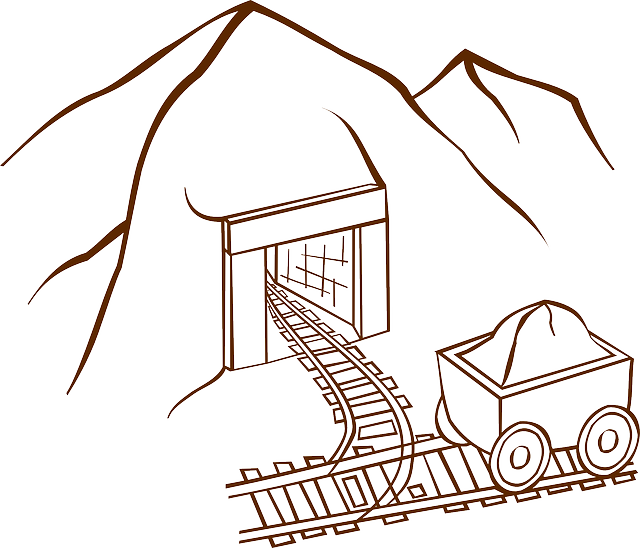 You have the potential to earn greater returns than by just investing in gold because these companies can increase production and lower costs to take advantage of market conditions.
However, investing in a single company can be risky. You can suffer losses even when gold prices are rising due to poor management decisions.
So rather than buying stock in just one firm, consider a gold miners ETF or mutual fund.
These provide a way to diversify across a range of companies and lower your risk in the event that any one company might fail.
3) Gold Futures
The highly competitive gold futures market is not for beginners. These contracts feature high leverage that can lead to quick profits or even quicker losses.
Each contract represents 100 ounces of gold. However, rather than putting up the full purchase price, you only need a deposit (called margin) of 5%.
Future contracts are typically used for speculation by traders looking to profit from short-term price movement. 
However, since you're buying on margin, you can lose more than your initial investment if prices move against you. 
In addition, you need to work with a broker specializing in futures contracts and ensure you fully understand your account's terms and conditions before you place any trades.
How to Buy Gold for Beginners?
What is the best way to buy gold for beginners?
If you're new to precious metal investing, consider starting with a gold IRA or purchasing shares in a gold ETF.
A gold IRA is perfect for those who want to diversify a portion of their retirement savings with physical gold and let their gains grow tax-deferred.
In addition, precious metals IRA companies simplify the process, especially for beginners, so you can start diversifying today.
On the other hand, though an ETF provides exposure to the market, you don't actually own any gold.
However, shares are easy to buy, and you won't need a special account if you want to hold them in your IRA.
We suggest you check out our in-depth guide on the best gold investments this year, with detailed explanation, risks and benefits of each category.
Final Thoughts
So, what is the most efficient way to buy gold?
Ultimately it comes down to your preferences and financial goals.
Whether you open a gold IRA, buy physical gold, or invest in an ETF, adding this precious metal to your portfolio is an excellent way to smooth out volatility and provide peace of mind during challenging economic times.
Remember, buying gold isn't a one size fits all investment strategy.
So if you still have questions, drop us a line in the comment section below. We're happy to share our insights and experience to help you learn more.
As always, safe investing.