Let's face it:
With so much uncertainty hanging over the market, precious metals have become a popular investment to diversify portfolio risk.
Gold in particular has always been a safe haven investment. As a result, it tends to outperform other asset classes during economic unrest.
In addition, the price of gold continues to outpace the inflation rate, making it an excellent investment for long-term investors.
But with so many precious metal companies to choose from, we understand that it can be challenging to pick one you can trust with your hard-earned savings.
That's why we've put together a comparison of JM Bullion and Augusta Precious Metals, with all the details, the pros and cons of each, and which one we think is a better choice for you.
Without further ado, let's get started.
Why Put Your Money in a Gold IRA?
Before we dive into the review, let's discuss why you might want to open a gold IRA.
Gold tends to outperform traditional paper assets, such as stocks and mutual funds, during times of economic uncertainty.
This makes it an excellent investment for those looking to diversify and reduce their overall portfolio risk.
In addition, gold prices tend to match or exceed the rate of inflation, providing an excellent hedge to preserve your portfolio's value.
For reference, let's use the Great Inflation of the 1970s as an example.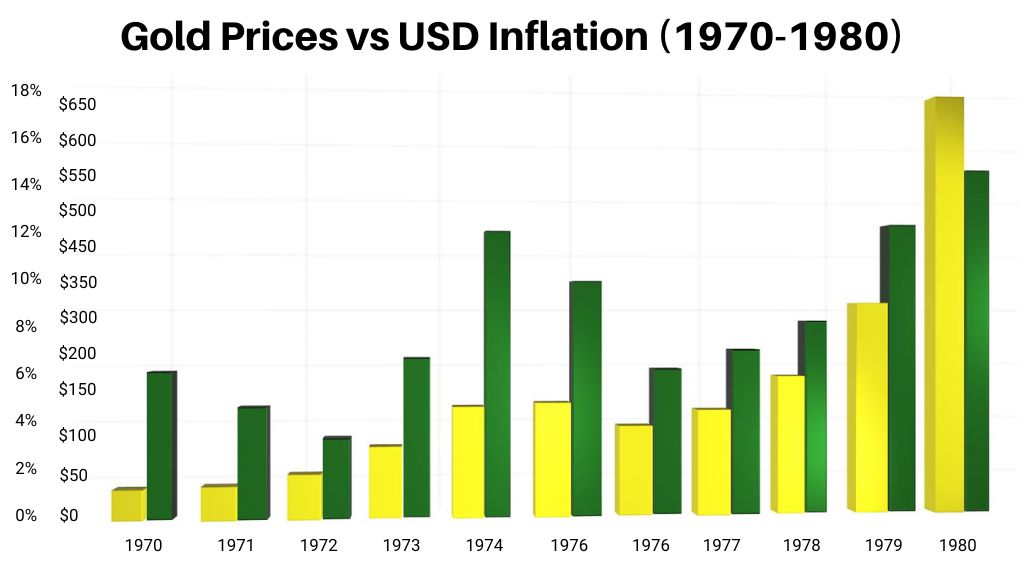 According to OfficialData.org, the inflation in 1970 was 5.72%; and by 1980, it was 13.5%.
Meanwhile the gold prices performed very well during such inflationary decade, being at less than $40 an ounce in 1970 all the way to $650 by 1980!
It gets better:
Holding gold in your individual retirement account can defer or eliminate taxes, allowing your investment to grow tax-free.
READ ALSO: What Are the Tax Benefits of Gold IRA Accounts?
Your IRA contributions may be tax deductible in the year you make them, depending on your income situation and IRA plan.
Who Is JM Bullion?
JM Bullion is one of the world's largest online dealers for different types of precious metals.
Headquartered in Dallas, Texas, the company was formed in 2011 and has annual revenues of $1 billion.

It is a market leader in online precious metals sales, is well-respected, and has an A+ rating with the Better Business Bureau.
They aim to provide the best online experience for purchasing quality precious metals at attractive prices.
Is JM Bullion a Good Dealer?
JM Bullion is an excellent dealer for investors who don't need much assistance and are looking to buy precious metals quickly, easily, and at a competitive price.
The company doesn't charge any extra service fees or commissions.
They maintain a large stock of precious metals – both in coins and bullion – that allows them to fulfill orders quickly and maintain that competitive pricing.
The reviews speak for themselves – JM Bullion has over 300,000 customer reviews with an average rating of 4.8/5.0.
As you can see it's totally legit and safe to buy from.
The Order Process
JM Bullion is a market leader in online precious metals sales.
All of them are made through their website. However, customer service agents are available if the need arises.
After opening an account, you can easily select and add items to your cart.
Prices are updated in real time, and all quantity and payment method discounts are automatically applied.
As a result, you can complete your order in just a few minutes with no surprises at checkout.
Basic shipping and insurance are included for all orders, with upgrades available. A receiving signature is required for all orders of $1000 or more.
Important:
Insurance only applies until your order is received. If your package appears damaged, we recommend not signing for the shipment.
Also, there are limited timeframes for filing a claim after signing for your order, so be sure to review it immediately upon receipt.
JM Bullion accepts a wide range of payment options:
Credit or debit card
Paypal
Cryptocurrency (Bitcoin, Bitcoin Cash, and Ethereum)
Paper check
ACH
Bank wire
They doesn't impose any minimum order amounts.
Instead, minimum and maximum order sizes are determined by your payment method according to the chart below: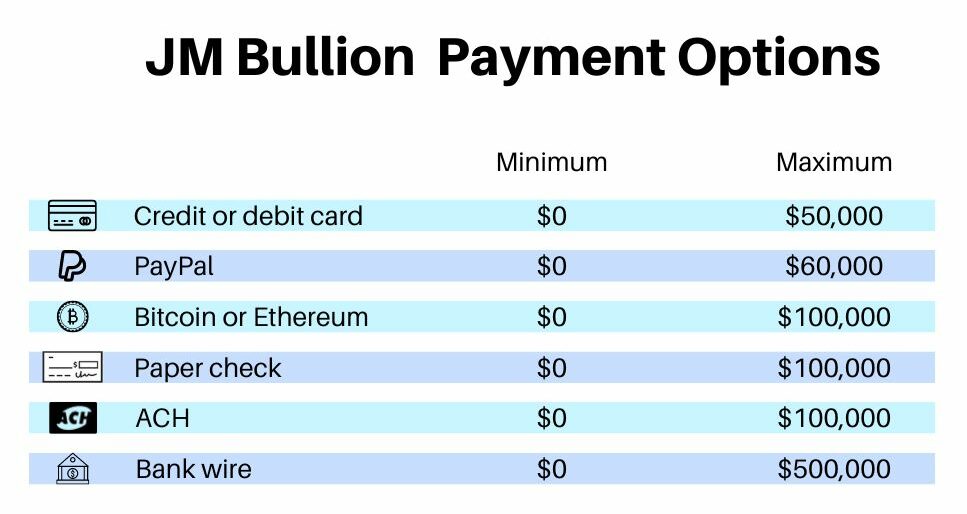 In addition, there are 4% discounts for payments made by bank wire, eCheck, or paper check.
When using Bitcoin or Ethereum, you will receive a 3% discount.
There are no discounts for credit or debit card payments or when using Paypal.
JM Bullion offers a 5-day return or exchange policy on all purchases. However, you may be responsible for any adverse price changes.
Products Available
This dealer offers a wide selection of gold, silver, platinum, palladium, and copper coins and bullion.
Please note that if you're buying for a gold individual retirement account, then not all of the above are IRA-approved.
You are responsible for ensuring that the selected products meet IRS requirements for purity and can be included in your gold IRA.
There are only 4 precious metals that are eligible for this account and they must have the following purity level:
Gold must be 99.5% pure.
Silver – 99.9% pure.
Platinum and palladium must be 99.95% pure.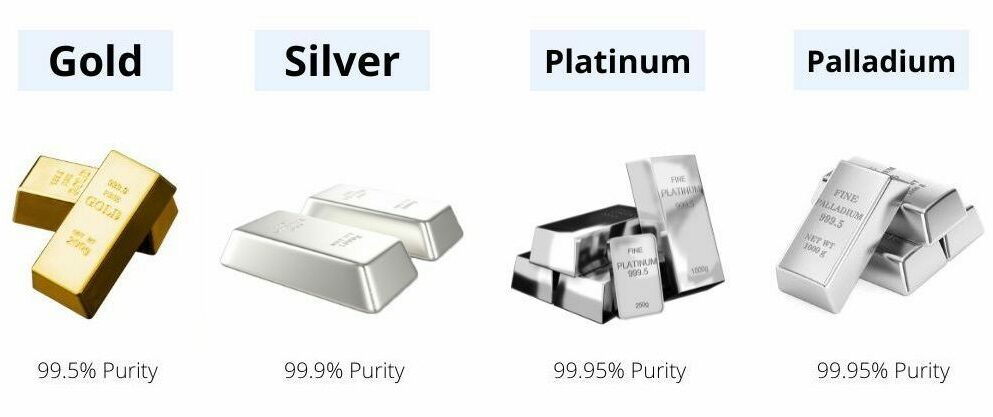 They can satisfy even the largest orders with an average inventory of tens of millions of dollars.
JM Bullion focuses on only the most popular products, which minimizes overhead costs.
This allows them to charge less over the spot price than many of their competitors – leading to better pricing for investors.
JM Bullion: Reviews and Awards
From their start in 2011, JM Bullion has become an industry leader in online gold purchases.
They were ranked 40th on Inc's Top 500 in 2016 for fastest growing privately held companies.
In 2017, JM Bullion won the highly-coveted Gold Stevie Award for Customer Service Department of the Year.
The company has received over 300,000 direct customer reviews with an average rating of 4.8/5.0.
They have an A+ rating with the Better Business Bureau, with an average rating of 4.57 out of 5.0 based on 826 reviews.
It's also worth noting that they have received 280 complaints over the past three years, with 86 coming in the last 12 months.
(Most complaints are about lack of product availability and shipping issues.)
They also have a 4.4 out of 5.0 average rating on Trust Pilot based on 1076 reviews.
JM Bullion Pros and Cons
Reasons to Consider:
A+ rating with BBB
No commissions or service charges
Military discounts available
No minimum order sizes
Excellent online platform that maintains up-to-date current pricing and no surprises at checkout
Reasons to Avoid:
Limited assistance in opening or rolling over a gold IRA
Many offered items are usually out of stock
Some BBB complaints related to shipping and product availability issues
Not TRUSTe verified (what does it mean?)
Who Is Augusta Precious Metals?
Augusta Precious Metals is one of the country's largest and most reputable gold and silver providers.
Founded in 2012 and located in Casper, WY, it was named "The Best Overall Gold IRA Company" by Money Magazine in 2022.
Their mission is to help people understand potential retirement concerns caused by financial policies that favor big banks rather than individuals.

Unlike JM Bullion, Augusta focuses on customer education first and foremost.
They aren't just looking to sell, but rather help you understand why diversifying with precious metals is a great way to protect your hard-earned retirement savings today.
Is Augusta Precious Metals Legit?
Now…
Is Augusta Precious Metals legit? Yes, absolutely.
As one of the largest precious metals companies in the US, Augusta is a legitimate and highly trustworthy firm.
They have partnered with Equity Trust to provide gold and silver individual retirement accounts.
(For context, Equity Trust has over 45 years of experience with self-directed IRAs and holds over $34 billion in assets.)
In addition, they have an A+ rating with the Better Business Bureau and an AAA rating with the Business Consumer Alliance.
(With the average customer ratings of over 4.9 stars.)
Now, this firm focuses on education and customer satisfaction ahead of sales.
The Augusta team even offers tips on avoiding gimmicks and high-pressure sales tactics that other less reputable gold companies use.
For more information on how you can spot precious metals fraud, take a look at this helpful guide from the CTFC.
The Order Process
Every new customer receives a personalized one-on-one web conference call before they can open an account with Augusta.
During this call, you will learn the advantages of a gold IRA and which precious metals best suit your financial situation and investment objectives.
If you're looking to open an account, they will work closely with you every step of the way.
When you're ready to buy, Augusta's order desk will go over all your options that best meet your personal financial goals.
(The process is completely transparent, and there are no hidden fees or commissions.)

Unlike JM Bullion, Augusta Precious Metals doesn't accept online orders for (extra) security reasons.
Instead, all orders are confirmed over a recorded phone line.
In addition, as a customer, you gain access to Augusta's award-winning lifetime customer support.
For the life of your account, Augusta's team of professionals is there for you to answer questions, help with future orders, and provide trustworthy financial advice.
There are a couple of things though:
Augusta only accepts payments via bank wire, and,
they have a minimum order size of $50,000, which may not be suitable for smaller investors.
So keep this in mind.
Products Available
Augusta is an IRS-approved trustee and offers some of the purest, highest quality gold, silver, platinum, and palladium available in the marketplace.
There's a wide selection of IRA-eligible coins, as well as bullion.
Augusta: Reviews and Awards
Money Magazine named Augusta the "Best Overall Gold IRA Company" for 2022.
It also holds the top spot as the most trusted Gold IRA Company in the United States for its excellent verified customer reviews, transparency, customer service, and great value.
In addition, this firm has received excellent reviews across numerous agencies.
Augusta also has received two Stevie Awards for excellent Customer Service Success and Sales Distinction of the Year.
Impressive, don't you agree!?
Augusta Precious Metals Pros and Cons
Reasons to Consider:
Award-winning customer service
A+ rating by the Better Business Bureau
5-star rating on TrustLink
7-day return policy for first-time buyers
Low one-time and annual maintenance fees for IRA accounts
Extensive free education
No high-pressure sales tactics
Lifetime customer support
Named "Best Overall Gold IRA Company of 2022" by Money Magazine
Reasons to Avoid:
The minimum order size of $50,000
Higher mark-ups on premium coins
JM Bullion or Augusta? (The Verdict)
Both companies would make excellent choices if you want to diversify your portfolio with physical precious metals.
JM Bullion is focused on providing an excellent online experience that makes buying physical gold quick and easy.
As a result, they are a perfect choice for more experienced investors that only require a little assistance.
And since they don't have any minimum purchase requirements, they are a great option if you want to add to an existing gold IRA.
However, don't expect a lot of hand-holding with JM Bullion.
On the other hand, Augusta Precious Metals is perfect for investors who want to develop a long-term relationship with their gold provider.
They provide extensive education and take the time to answer all your questions without any pressure to buy.
Their IRA Department makes it easy to open and fund your new gold individual retirement account, and they handle all the details.
However, their minimum order size of $50,000 may be too high for some investors. (Keep that in mind.)
This being said:
If you're an experienced gold investor looking to buy gold without needing any hand-holding, JM Bullion would be a great choice.
However, if you want a more personalized experience with Gold IRA professionals who will take the time to answer all your questions and be with you through every step in the process, then we recommend going with Augusta Precious Metals.
You plan to go with the latter, then you can read our in-depth Augusta review, or call them directly at (833) 989-1952.