Look, we get it.
There's a lot of market uncertainty now, and precious metals are one of the best investments to reduce your risk.
Gold is an excellent safe haven during these times and has a great track record of outperforming other asset classes when there is economic upheaval.
Having a tangible asset that performs based on scarcity and isn't tied to management decisions, social trends, or politics is comforting.
It's valuable because of what it is, not tied to someone else's ability to manage uncertainty. You can buy and hold it, knowing it retains value regardless of the economic situation.
Now…
There are a lot of precious metals companies to choose from when adding gold to your portfolio; not all are created equal.
It can be challenging to pick one you trust, but we're here to help.
This Advantage Gold and Augusta Precious Metals comparison post will pull together the most critical details and variables and weigh the pros and cons.
It uses the following key criteria to compare these firms on equal footing:
Years in Business
Gold IRA Fees and Costs
Products Offered
Education and Assistance
Order Process
Reputation – Customer Reviews and Complaints
When we're done, you'll have a complete picture of their strengths and weaknesses and how they compare to one another so you can determine your best fit.
Without further ado, let's get started.
Years in Business
Experience matters.
Knowing the firm has staying power is a testament to its ability to weather economic changes and manage through difficult times.
It also implies that customers value the company's services and keep coming back.
Advantage Gold
Los Angeles-based Advantage Gold was formed in 2014 and has annual revenues of $57.7 million. While formed after the Great Recession in 2008, it performed through the 2020 pandemic.
Augusta Precious Metals
Founded in Casper, Wyoming, in 2012, Augusta Precious Metals has gone on to become one of the country's largest and most reputable providers in the United States.
Like Advantage Gold, it started post-Great Recession and made it through C-19 in great shape.
Decision
Both Augusta and Advantage started post-Great Recession and are with us post-2020 global turmoil.
Their years of experience are close, but Augusta has been around a little longer, giving it the win.
Gold IRA Fees and Costs
Gold IRAs are an excellent way to save for retirement due to their tax benefits.
Investors don't need to store the physical asset yet benefit from the long-term value increases of their gold holdings.
Like all investments, fees and costs are considerations as they can eat into overall returns.
Both companies use top-tier preferred IRA custodians, so this metric is based on a preferred plan and any direct costs from the firm.
Advantage Gold Fees
Has two preferred IRA custodians, Equity Trust, and Strata Trust.

While on the AG website there's no specific info on fees and costs, we decided to check out the custodian websites instead.
Equity Trust charges $50 for an online application and then yearly fees range from $225-$2,250, depending on the portfolio's value.
Storage starts at $100 annually.
There are 16 possible service fees ranging from $10-$100.
They also impose termination fees – $250 for a full termination and $100/asset for partial termination.
Strata Trust fees are quite straightforward. Their setup costs $50, and the annual fee is $95.
Commingled storage is $100, while segregated storage costs $150 (for gold, platinum, and palladium).
The purchase, sale, or exchange has a flat rate of $40.
Keep in mind that you may have better rates if you're investing directly through Advantage Gold, that's why it's always best to speak with their agents directly.
Augusta Precious Metals Fees
Augusta keeps it easy.
It has one preferred custodian, Equity Trust, which the firm considers the nation's leading self-directed IRA provider.
Even Investopedia named ET as the Best Overall Self-Directed Custodian this year.
Now, when working directly through Augusta, these are the fees you would pay: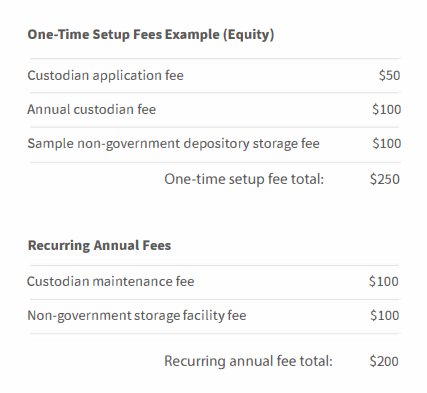 We've personally confirmed with Augusta team that these apply to any amount you contribute.
Meaning that even if your investment amount is $2 million, you'll still pay only $250 the first year and $200 annually.
Decision
Advantage Gold's option of Strata gives it the advantage if you want to lower the costs of a precious metals IRA.
Augusta is an excellent choice for those who like to keep it easy and use the top-rated custodian.
Considering Advantage Gold's additional option, the company comes out with the win for IRA fees.
Products Offered
Investors are best served when they have options to choose from.
Everyone has different desires, and a range of choices ensures they find a fit for their precious metals strategy.
IRS listed four precious metals with specific purity levels that are acceptable for IRA accounts.
They are:
99.5% pure gold
99.9% pure silver
99.5% pure platinum
99.5% pure palladium
One exception is the American Gold Eagle coin, which can be 91.67% pure.
Advantage Gold
Offers gold, silver, palladium, and platinum; their coins are all IRA-eligible.
There are no options for bars limiting you to .25 and 1 oz coins only.
Augusta Precious Metals
It is an IRS-approved trustee offering the highest quality precious metals.
It has a more extensive list of offerings (including some classic collectibles) and offers a 10 oz bar.
Augusta only offers gold and silver options, but would you really invest in anything else?

On their website you can see which products are currently in or out of stock.
Decision
Both Augusta and Advantage offer only the highest quality, IRA-eligible options.
Advantage Gold offers gold, silver, platinum, and palladium, but Augusta only provides gold and silver.
What sets Augusta apart is a more considerable list of gold and silver offerings.
Education & Assistance
There is some knowledge involved in investing in precious metals. As you've seen, only certain coins are IRS-approved.
Beginners benefit from substantial educational resources, ensuring they start off on the right foot.
Advantage Gold
Offers a customer service line with experts to help you Monday-Friday.
Additionally, their online tools provide some videos and charts, but learning options could be improved overall.
Augusta Precious Metals
While Augusta's online resources are somewhat limited, the company has three big educational advantages.
It offers a web conference, sends out educational emails and videos, and clients have access to an individual customer success agent.
You can call them Monday to Friday from 6 am to 5 pm PST at (833) 989-1952, request a call, or set up a one-on-one web conference.
You can also get their FREE Gold IRA guide here.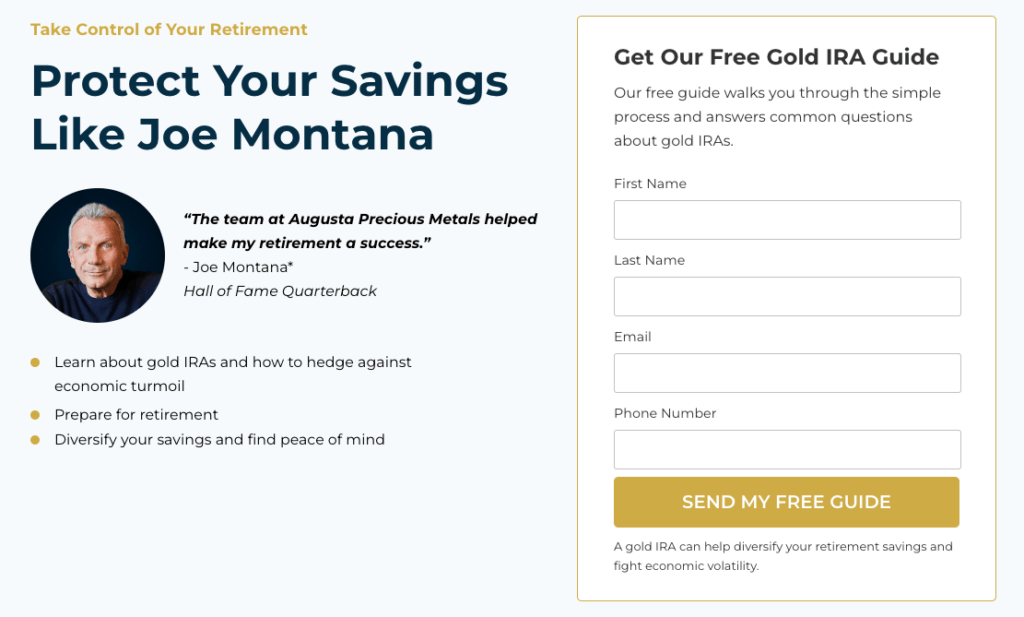 Decision
Self-service options are nice; individual attention is better. We choose Augusta Precious Metals.
Ordering Process
Ease of ordering is always a service consideration.
Still, when dealing with any investment, ordering advice and assistance matters.
Advantage Gold
Advantage Gold is specialized and limited in funding options, only offering rollovers from other retirement accounts.
The required minimum amount is $25,000.
Their level of specialization makes the process easy for those looking to move into a precious metals IRA.
The firm offers signup through its two preferred IRA custodians with links to their website pages to start an account.
For those who would like to consult with a specialist, a representative can help you M-F from 6 am to 6 pm PST.
AG offers no refunds or returns.
Augusta Precious Metals
This company takes a very different approach, requiring a personalized one-on-one conference call before opening an account.
The call includes discussing the investment strategies that best fit your objectives and financial situation and covering gold IRAs fees and costs.
On the call, the expert will discuss the advantages and drawbacks of each investment strategy and metal type.
You can expect outstanding service that matches your needs and the same level of ongoing account support.
One big drawback for some folks is that Augusta's minimum contribution amount for a Gold IRA account is $50,000.
You can make payments by:
Bank wire – no maximum
Personal check – up to $50,000 maximum
Retirement account rollover
The return policy is seven days — plan on being on the hook if prices drop during that period.
Decision
Signing up easily online is excellent, but Augusta's level of service is outstanding and helps you have a solid strategy.
Add that it has a return policy and is not as limited in funding options, and Augusta is our clear winner.
Customer Reviews and Complaints
The most important criterion for any business you commit large amounts of money to is its reputation.

You wouldn't make retirement decisions with a guy sitting in the backroom of a strip mall wearing a "My mom went to Cancun, and all I got was this lousy t-shirt" shirt and drinking a Bud Light Lime.
Before jumping into the reviews, we assure you neither Advantage or Augusta is the guy in that t-shirt.
Advantage Gold Reviews
Are there any Advantage Gold complaints?
It is an industry leader, winning the Best of Trustlink prize five years in a row (2016-2020).
Advantage Gold's Better Business Bureau reviews have an average rating of 4.83 out of 5.0 based on 77 reviews.
The BBB has received one complaint over the past three years, with zero in the last 12 months. Naturally, they are A+ rated by the BBB.
With 1473 Trust Pilot reviews, they score 5 out of the possible 5.
Keep in mind that this platform detected possible unsupported invitation methods which impact the TrustScore.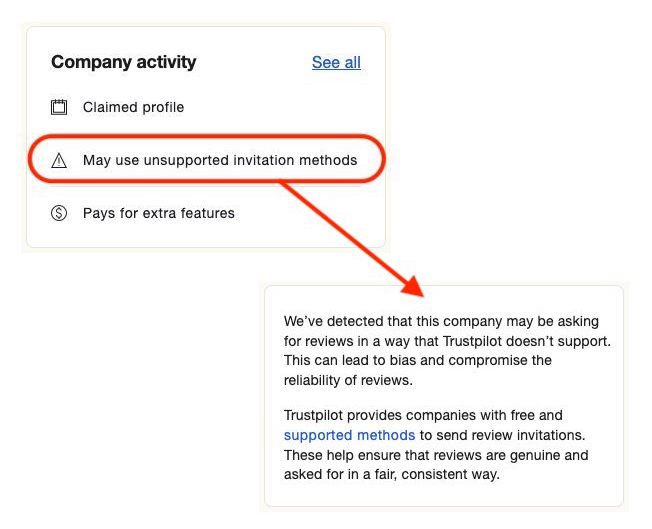 This doesn't mean that it really is the case or that the company is bad; it simply means that there may be a bit of bias in those reviews.
Augusta Precious Metals
This company has a history of awards and industry-leading reviews.
If you're looking for Augusta Precious Metals complaints, you simply won't find them. Impressive.
The firm has been named the Best Overall Gold IRA company by Money Magazine in 2022 and has received two Stevie Awards, one for Customer Service Success and the other for Sales Distinction.
BBB reviews average 4.97 out of 5.0, with zero complaints. Based on 284 TrustLink reviews, the company has a perfect 5.0 rating.
Augusta's customer reviews are nothing short of exceptional. And the white-glove service treatment has clearly set it apart.
Decision
This important metric has a clear winner.
Advantage Gold has a lot of good customer feedback, but Augusta has an impeccable reputation and reviews that any company would envy.
Outstanding is probably an understatement.
Our Winner
So, which is the best Gold IRA company – Augusta Precious Metals or Advantage Gold?
Either company is a top-notch firm and an excellent choice.
You can't go wrong using Advantage Gold if you simply want to roll over a retirement account into a Precious Metals IRA.
It is highly rated and a great pick you can feel safe using.
Now…
In our view, white-glove service and an impeccable reputation set Augusta apart.
You're not investing $100 through an app on your phone and deserve the level of service that should come with sizeable transactions and know the products on offer are only the best.
Augusta is the next level of excellence and the clear winner here. It is also our #1 recommended Gold IRA company today.
#1 Recommended Gold IRA Company in the US
(With the lowest fees and strongest reputation!)

Award-winning customer service

Competitive prices with no hidden fees or commissions

Named "Best Overall Gold IRA Company" by Money Magazine

7-day return policy for first-time buyers

A+ rating on Better Business Bureau

Minimum $50,000 contribution (cash transfer or rollover)
Now, we'd like to hear from you:
Have you dealt with any of these 2 businesses before?
Which one do you think is best: Augusta Precious Metals or Advantage Gold?
Share your thoughts in the comments below!